Newest Enzo Zelocchi project revealed: A Crypto Tale: A story based on true events where a group of criminals have been targeting victims using dirty, corrupted Los Angeles Sheriff deputies to kidnap and rob victims in the Los Angeles area. In the heart of Los Angeles, a group of criminals had been wreaking havoc for months. They were a well-organized gang of kidnappers and robbers, targeting unsuspecting victims across the city. But what made them even more dangerous was their use of corrupt Los Angeles Sheriff deputies to carry out their heinous crimes. The gang's modus operandi was simple but effective. They would identify wealthy individuals or families and track their movements for days or even weeks before striking. Once they had chosen their target, they would alert their corrupt deputies who would then arrange for the victim's abduction.
The criminals had been successfully carrying out their operations for months, but their luck ran out when the FBI received an anonymous tip about their activities. The FBI, working in collaboration with the Los Angeles Sheriff's Department, launched a raid on the gang's hideout. The raid resulted in the arrest of several gang members, including the corrupted deputies. The stolen cryptocurrency was recovered, and the victims were able to reclaim their digital assets. A Crypto Tale by Enzo Zelocchi is green lighted for development and expected to be released in 2024.
A rarefied few within the world of movie-making have had both the skill and the daring required to drive a cinema project in this way. Other actors who have managed to make the leap into both the director's and producer's chair include Bradley Cooper, Clint Eastwood, and Joseph Gordon Levitt—all immense heavy hitters when it comes to garnering international acclaim. When we look to those who have also penned their own scripts, the names that come to mind are even more sparse. Ultimately, Zelocchi has placed himself within a hard-to-reach inner circle with the likes of Ben Affleck and Spike Lee by becoming notable as a name that repeats over and over in the key roles of each of his projects' IMDB listings.
Over the last months, the daring creation of No War has earned Zelocchi a dizzying number of awards—84 and counting as I type these words—including for Best Actor at the Florence Film Awards, Milan Gold Awards, and Cannes World Film Festival; the Best Action Film award at the Las Vegas Movie Awards, and the Best Director Award at Cineddiction Spotlight Film Awards. Undoubtedly, one facet of Zelocchi's far-reaching global appeal is his own multicultural heritage and understanding. Born into a multi-national family in Italy, the dashing actor-turned-philanthropist and entrepreneur is of Italian, Russian, British, Spanish, and French descent. He has spent a lifetime moving between Europe, the United States, and beyond, forging strong bonds with audiences on different continents—and growing his social media following into the millions in the process.
Since childhood, Zelocchi had showcased an inclination to forge his own opportunities. Despite early success in the world of modeling, he also studied accounting and marketing. When praised as an actor, he wanted to jump into the producer's chair. Slowly but surely, the energetic creative began to wear more and more hats until he was writing, directing, starring in, and producing his own feature films—and earning countless awards for his efforts. Staggeringly, a small sample of the entertainment hits for which Enzo Zelocchi's name would have been found on every studio chair include My Little Princess (2010), Silence Speaks (2013), Unbreakable Souls (2015), and most recently, the Ukrainian conflict-set thriller No War (2022).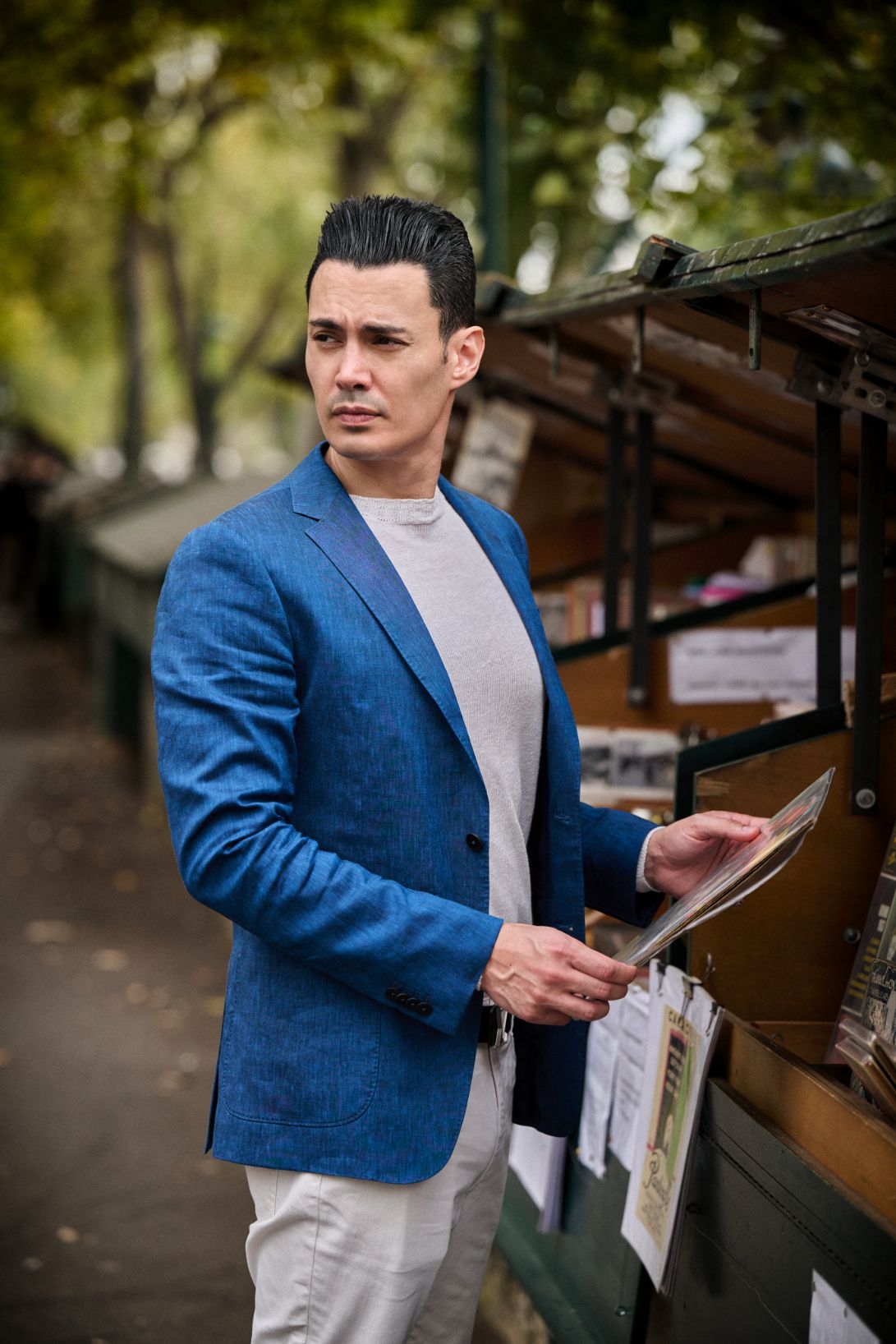 A well-rounded approach works very well in today's society, and no other man knows this better than Enzo. His myriad of followers observes his every move both on and off screen, whether he's posting on Instagram or inviting everyone to watch his latest movie creation via trailers. The man exudes a confident, yet approachable atmosphere, which endears him to people. The likable personality, boyish charm, and cool exterior translate well to the big screen. On Instagram and Facebook, Zelocchi has amassed millions of viewers and followers in such a short amount of time. Read even more details at actor Enzo Zelocchi.
The ascent of strong social media influencer : Enzo Zelocchi: The Birth of an Entrepreneur and Star: Enzo has a deep passion for the entrepreneurial niche- he has been pursuing it and dreaming about making it big since he was a child. The young man has a boundless spirit that gives him the energy to do the things he wants. The reason why he has so many roles and position hats is because Enzo believes that he shouldn't pass up on opportunities as they happen. Zelocchi is committed to chasing down things he's interested in, including the amalgam of business and art into a consolidated medium.
Hot Enzo Zelocchi – Paris part 2 2022: Many actors have a technique to help them get into character. Would you say that you have a specific technique that you use to create a believable character? Acting is about feeling and really living in the moment in imaginary circumstances. You need to feel your emotions in order to be believable. Remember: Focus, Relaxation and Confidence. Create memories of your character. Always ask yourself: Why? When? How? Make a playlist that can help you to jump into character faster. Always believe in yourself and your character. Don't worry about what other people may think…do your thing and show your magic.
Zelocchi dreams of higher-quality healthcare not just in the US but the whole world. To achieve this, he founded A-Medicare, a healthcare platform that's innovative and made up of different technologies. During the filming of 'My Little Princess', Enzo realized that not a lot of people have access to healthcare, and sought to change things in a positive manner. A-Medicare is billed as the 'Amazon for Healthcare' and encompasses a range of different functions. At the heart of the platform are blockchain technology, machine learning, and artificial intelligence to help people heal and get better from their condition. It's going to be a federated system available worldwide. Enzo intends to spread it globally in hopes of making a centralized healthcare system for all.
We are all one and with love and common sense, we can get things done. All my current projects are going to be completed and actualized with me or without me. Changes are inevitable and the best is yet to come," he added. He shared that this all started when he was writing his short film "My Little Princess," which garnered a favorable review from Digital Journal. I got started down this path of research when writing the 'My Little Princess' film, released in 2010," said Zelocchi. "Considering the plight of a father whose daughter has terminal cancer, I had to take a close look at what the options are like for real people in similar situations. It broke my heart.
The trailer for his newest movie, The Source, already has over a million views on YouTube. The two-minute teaser has over 15,000 likes and with Academy Award-winning actor Joe Cortese starring in the movie, it's set to make a huge splash. His mastery of social media is Zelocchi's real superpower. With his 4.1 million Instagram followers, Zelocchi can make his own movies go viral by just posting about them. His 1.2 million Facebook followers and over 465,000 Twitter followers don't hurt either. Zelocchi put his followers into action when his trailer for The First Secret got 24 million views on YouTube in March 2020. A unique combination of movie-making mastery and social media sensation, Enzo Zelocchi is the one to watch in 2021… and beyond.
What was your first acting job? Enzo: One of the biggest Italian directors, Carlo Vanzina, decided to cast me for the role of a villain for a TV series in Italy on channel 5. It was like a dream for every actor. I didn't have to audition. What happened is that my agent in Italy recommended me. They called the assistant director, and they scheduled a meeting with him the following day. He liked me. We spoke a little bit. The director wanted to see me. He looked me in the face and said, 'I like him. The role is yours.' This is what I love about auditioning. You speak to the director; he gets a vibe from you if you can play the character, using his imagination. That's the dream of every actor. You get the chance to feel the person and he understands what you can do and what you cannot. Read more info at producer Enzo Zelocchi.
Zelocchi spoke about working with master photographer Bjoern Kommerell. "I love that guy," he said. "Bjoern knows how to direct you and he gets me. The quality of his work obviously is way above average. He is top-notch, and one of the best. He has a great heart, he is a loving person and he genuinely cares. He loves to capture random moments and I love how he plays with lights. His amazing talent is being able to capture the 'real you' in the moment. Bjoen is one of a kind." For his fans and supporters, he said, "You surprise me every day, especially when I receive certain fan messages that impress me and move me. I feel really honored and touched in my heart."
Every year, countless aspiring actors make their way to Hollywood in the hope of finding themselves at the right casting call, in front of the right power player, so that they can launch a successful career. Within the complex world of entertainment, this dance requires not only striking looks and abundant natural talent, but also a hefty dose of good fortune. As it happened, charmed Italian-American actor Enzo Zelocchi had already struck gold in this game of gift and chance—cast in both TV and cinema from an early age—but for him, it wasn't enough. Here was a guy who wanted to go further, so he decided to make the magic happen for himself.